KANEMITSU Yoshio, MD, Ph.D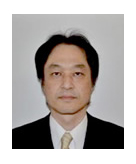 Professor
Section of Psychosomatic Medicine
Department of Medicine
Division of Oral & Medical Management



  

 Dr. Yoshio Kanemitsu received his Doctor of Medicine Degree from Kyushu University in 1989 and entered Department of Psychosomatic Medicine, Kyushu University, where he had clinical trainings on internal medicine and psychosomatic internal medicine. Then he proceeded to Ph.D. course of Division of Medical Science, Kyushu University. After completing his Ph.D. he studied abroad at National Institutes of Health, U.S. In 2004 he came back from the U.S. and served as the chief, Neurophysiology Section, Department of Psychosomatic Medicine, Kyushu University. In April 2011, he came to Fukuoka Dental College as the professor of Section of Psychosomatic Medicine, Department of Medicine.

 As for research, he investigated the brain mechanism of how psychological stresses have effect on immunity at the First Department of Physiology and studied on the effect which pain sensation modulator have on NMDA receptor at NIH. After returning from the US, he analyzed genetic factors of depression, headache, and orthostatic disturbance and investigated their relevance with psychoneurosis. His research interests are also in psychogenic fever and chronic fatigue.
 As clinical activities, in addition to general treatment for psychosomatic diseases such as chronic fatigue syndrome and psychogenic fever, he provides treatment for nervous system disorders like psychogenic dystonia, chronic headache, dizziness, tinnitus, and vegetative syndrome, applying the methods of biofeedback and autogenic trainings as well as psychotherapy. Drawing on his experience, he aims to provide psychosomatic treatment cooperating with other medical departments and conduct holistic medical education.
Research
1.Therapeutic effects of autogenic training on the stress related functional somatic syndromes.
2.Pathophysiology of psychogenic hyperthermia: molecular basis of the morbidity of the psychogenic hyperthermia and the sensitivity to the psychological stress.
3.Psychological factors influensing the prognosis of the oral psychosomatic diseases: ethiological and pathophysiological analysis.
4.Heart rate variability spectral analysis of the patients of psychosomatic diseases: the therapeutic effects of psychosomatic medical treatments.
Research work by KANEMITSU Yoshio